Speaking on Building Great Leadership Teams
Jack McGuinness is a management consultant, executive coach and speaker with a focus on helping executives Build Great Leadership Teams.
Jack McGuinness is an experienced speaker who consistently receives positive feedback about the pragmatic, engaging and actionable value of his speaking engagements. His talks offer CEOs/Presidents/GMs and their leadership teams with practical insights on how to build and maintain great leadership teams.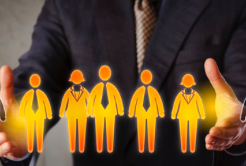 Leader's Role in Building Great Leadership Teams
Learn how to...
1. Establish Sound Structure
2. Foster Team Relationships
2. Model Expected Behaviors
Tips for Reenergizing Leadership Teams
Learn how to...
1. Confirm Purpose
2. Foster Productive Dialogue
3. Reinforce Accountability
Measuring Leadership Team Effectiveness
Learn how to...
1. Assess Structural & Relational Dynamics
2. Evaluate Business Results
Upcoming Speaking Engagements:
Previous Speaking Engagements:
Jack has spoken at many venues from trade association conferences to local chamber of commerce meetings to annual awards events.
What others say about Jack's speaking engagements...
Jack is an engaging speaker with a direct and practical style. His message on the hard work it takes to set leadership teams up for success really resonated with me and my team. Jack's easy going manner fosters great interaction with his audiences.
Chris Taylor: CEO, Govini
Jack spoke to a breakout session of about 250 people at our annual conference and the participants loved his interactive approach and his important messages about the role leadership teams play in creating an engaged workforce.
Dennis McGarry: NTCA The Rural Broadband Association, Director of Programming
Jack McGuinness & Relationship Impact messages featured on:
As an expert in the field of leadership team effectiveness Jack is regularly asked to be a guest on podcast and contributor to industry sites.